Introduction of yuba products of Guangdeli Company
---
Yuba originated in the Tang Dynasty. After heating and boiling soy milk, after a period of heat preservation, a layer of film was formed on the surface. After being picked out, it drooped into branches and dried. Its shape is similar to bamboo branches, called yuba, and it is rich in vegetable protein. 100g yuba contains more than 40 grams of protein, 22.3 grams of carbohydrates, and a large amount of unsaturated fatty acids. It does not contain cholesterol and contains a balanced proportion of natural nutrients. It is called the meat of vegetarian food, the king of vegetarian food, and it is often directly translated as vegetarian meat in foreign countries.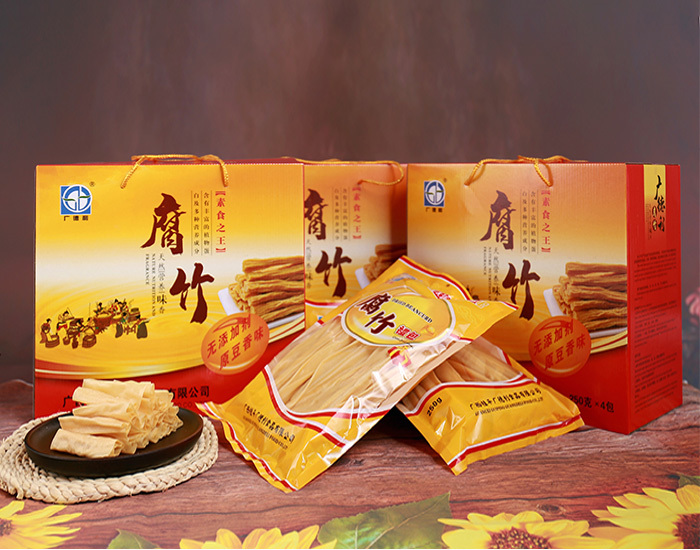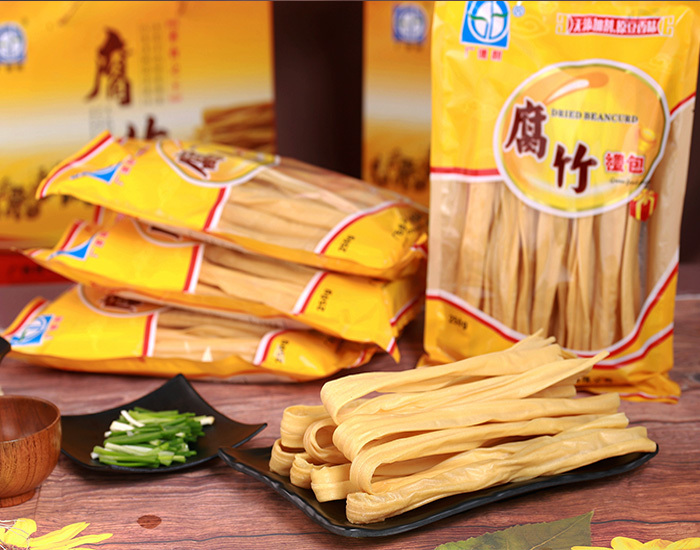 Our company is located in the prestigious "Hometown of Yuba" - Guiping City, Guangxi. As the saying goes, one side of water and soil raises one side of people. Although Guiping is not the origin of soybeans, it is the hometown of yuba. The company relies on Guiping's natural high-quality water material, which is suitable for the production and processing of yuba. The soft blisters soak beans and grind the pulp to maintain the protein content to the greatest extent, and the taste is pure.
We, Mr. Pan, have been engaged in the production of yuba for generations. After several generations of practical experience, we have introduced advanced technology and equipment, combined with the machines we invented, especially in the aspects of mashing, boiling and pulling yuba, and we have our own unique features. The technology makes the collision opportunities between the protein colloids more likely, easy to gather, and the skin is fast, while retaining the inherent rich flavor of soybeans, and has a unique taste that other soybean products do not have.
As raw materials, we use high-quality non-GMO soybeans from Northeast China as raw materials, and use our own invented machines and equipment, combined with traditional technology to process, and strive to produce healthy and nutritious natural traditional food without adding any additives that are harmful to the human body. In order to ensure food safety, the company has established ISO22000 and HACCP-based food safety management system in 2006, and passed the certification in 2007. According to product characteristics, the company has formulated and implemented strict quality control measures, and has formed a whole-process quality monitoring system from supplier management, incoming inspection, online inspection, product inspection, and in-market inspection. The management is implemented in all aspects of raw material procurement, product design, production and processing, product sales, and after-sales service.
Yuba should not be eaten with green onions and honey, but can be eaten with hairtail, white radish, and celery.
Patients with kidney disease, diabetes and gout should not use it.